May 19, 2016 12:57 am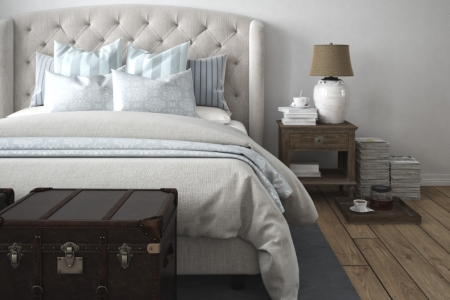 Our ever-hectic lives underscore the need for relaxation spaces at home—especially in the bedroom. In fact, that bedroom "zen" we're all after trumps the need for sleep for nearly half of Americans surveyed in a recent report.
Many of us have tried to create a more restful space in our bedrooms (60 percent, according to the survey), but often, professional and personal demands foil those plans. Those surveyed seek "calmness" and "comfort" above features like "better functionality," "excitement" and "organization."
Achieving that coveted calm doesn't have to be an exercise in futility, says Elizabeth Mayhew, author, decorator and partner of The Saatva Company, which conducted the survey. She advises these tips:
• Select a harmonious color palette. Natural colors in cool, soft tones, such as gray, white or shades of beige or blue, have the power to induce a sense of calm.
• Look for fundamental furniture with clean, simple lines and no excess ornamentation.
• Avoid strong direct light from the ceiling, which can inhibit relaxation, and combine soothing ambient light with the room's natural light.
Don't neglect the bed, adds Mayhew. Mattresses manufactured today marry comfort with advanced, eco-friendly technology, which lends to the overall zen vibe.
Source: The Saatva Company
Published with permission from RISMedia.